ST. ANDREW'S CHURCH, FARLEIGH WALLOP
Today the picturesque church of St. Andrew, Farleigh Wallop, stands in splendid isolation in a field. A fence keeps back grazing cattle from the graveyard. In the 17th century, the area around the church was the site of the village of Farleigh Wallop, but the houses are thought to have been destroyed during the Civil War, and the church now stands well away from the village, surrounded by fields and with only a footpath leading to it from a small lane.
The church was entirely rebuilt in about 1733 and then rebuilt again in 1871-72, while the tower dates from 1873. Little of the 18th century church can be traced. The Victorian History of Hampshire says: "It was built in dull Gothic style", although it has also been described as being a rare example of early Georgian Gothic. There was a partial restoration of the chancel walls in 1938.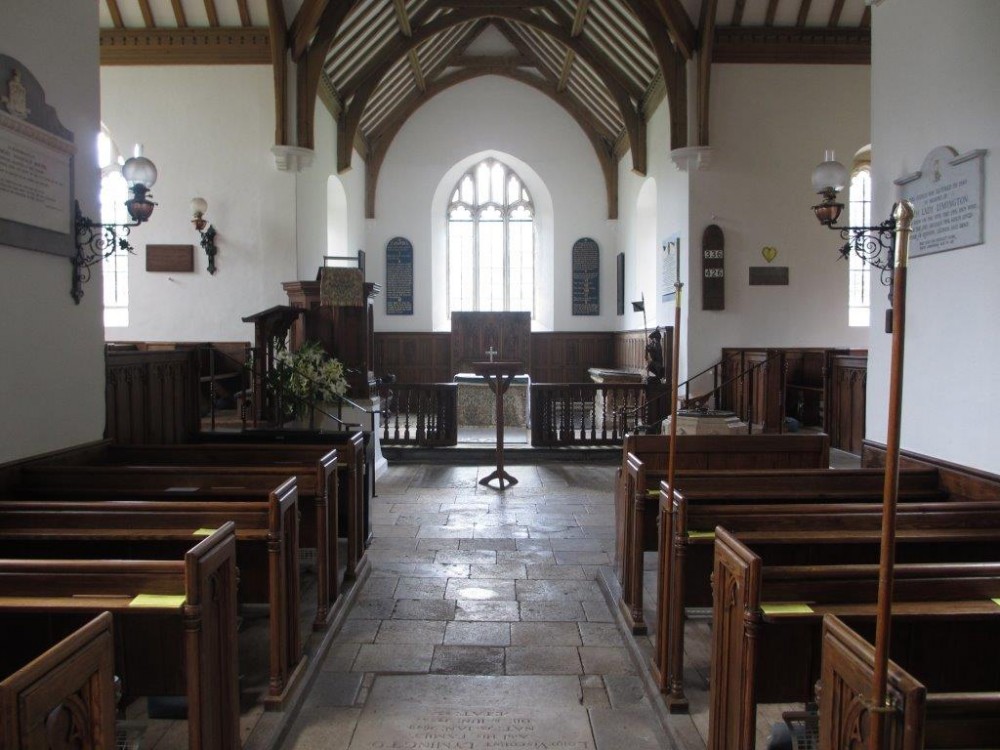 St. Andrew's is a small, completely cruciform church, and one which is almost a memorial chapel to the Wallop family. The north and south arms of the cross-pattern are raised to a greater height than the nave and the chancel, and the end wall of the south arm (transept) is occupied by huge tablets with long inscriptions to the memory of the first Earl of Portsmouth and his wife. The stone font, which replaced an earlier wooden one, and the altar rails, date from the last century. The carved wooden goats on the altar rails came from Hurstbourne Priors, another Wallop house in Hampshire. There are three bells in the tower, all cast (or possibly recast) in 1872. Over the west and only door is a garland of wood in the style of Grinling Gibbons. The majority of the memorials, both on the walls and the floor, (especially in the sanctuary) are to the Wallop family, but there are a few others. An altar tomb on the south side of the chancel is of the 15th century, but the figures and all inscriptions have gone. However, in one of the panels is the Wallop coat of arms.