Updated 24th January 2021
Some childrens videos are now available on the Children's Tab
Dear Friends - A monthly letter from our priests is available here.
Our streamed Services for Sunday, January 17th are available on the
Services Tab
.
The
latest letter from David and Stephen is available
here
.
The latest prayer diary is available
here
.
Service times in church buildings and opening schedules for private prayer are available on the
services tab
above
Information about arrangements in the Parishes / Benefice is available on the
Corona Virus tab
above.
________________________________________________________
Follow the Star!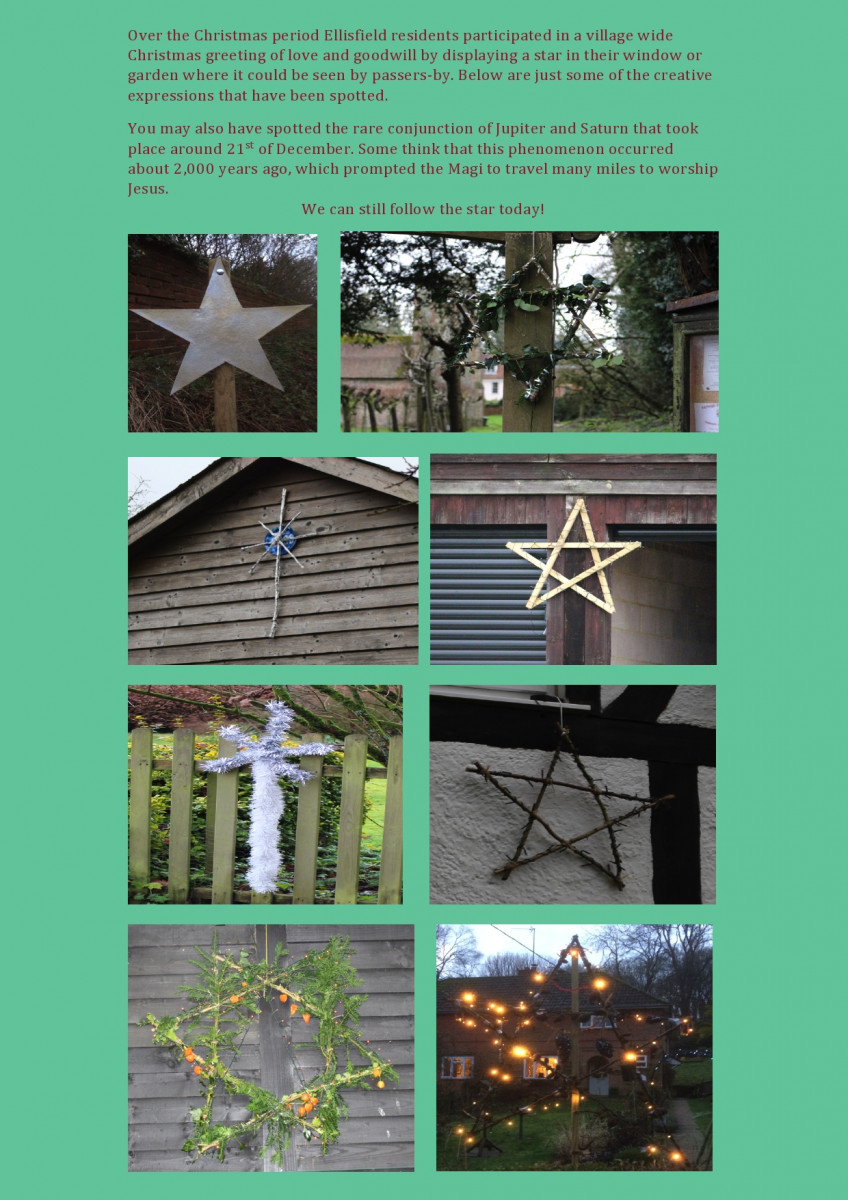 ________________________________________________________
Stephen's talks on suffering, disasters and faith
In Stephen's talk on Sunday and letter on 6th June, he mentioned he was going to do a talk on disasters and faith. It's not easy doing that in a short talk, so he has recorded three talks, each about 15 minutes long, which are all all connected and follow on from one another. The links are below
You may have seen this beautiful video, bringing together worship leaders from more 65 different churches and networks in the UK, to sing the UK Blessing. The group, organised by worship leader Tim Hughes, represents a number of churches who have collectively, supplied over 400,000 meals to the most vulnerable and isolated in the UK since COVID-19 lockdown began. This alongside phone calls to the isolated, pharmacy delivery drops and hot meals to the NHS frontline staff.
We pray this song is a blessing to you and your household, wherever you are in the world, as you watch and listen.
There are some excellent speakers and talks available online.
One that stands out is Simon Ponsonby at St Aldates Church, Oxford. He recently gave a talk titled Christ, Crisis and Coronovirus. It is about prayer, drawn from John 17, and though 32 mins long, it's definitely worth putting on a device to listen to on a walk, at the kitchen sink or driving the car or even just sitting down with a coffee to give full attention!
Welcome
The benefice comprises four adjacent parishes: Farleigh, The Candovers with Bradley, Northington and Wield. The parish of Farleigh has four churches; Cliddesden, Dummer, Ellisfield and Farleigh Wallop. The parish of The Candovers with Bradley has three churches; Preston Candover, Brown Candover and Bradley.
The parishes together form the benefice of Farleigh, Candover and Wield which is served by two full time Priests: the Rector, David Chattell who takes primary responsibility for the Parishes of The Candovers with Bradley, Northington and Wield and the Assistant Rector, Stephen Mourant who has primary responsibility for the Parish of Farleigh.
Parish Prayer/Bible Reading Diary
The December 28th - February 14th edition is now available. We include prayers for our communities, those in need, and some of our regular church events across the benefice.