Porch
In the west porch, above the inner door, is a niche which would probably have held an effigy prior to the Civil War (1649- 1660). This area was at the centre of armed struggles between the Royalist and the Parliamentarian forces, when much damage was done to the fabric and content of religious buildings.
The roof is early 15th century with wall plates and low panelling enriched with arcading. The inner porch surround has some simple carvings and designs - perhaps an early form of graffiti.
Nave
The well preserved timber framed roof and belfry structure date from the early to mid 15th century.
On the north side of the chancel arch, near the foot of the pulpit, is an early 14th century recess, which is believed to have served as a reredos to a nave altar.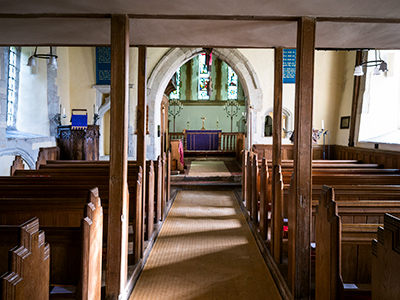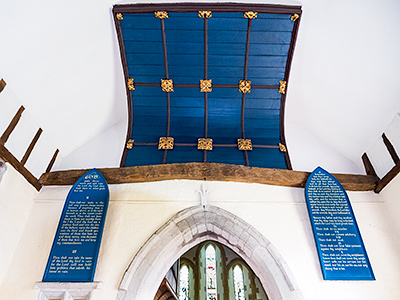 Rood Canopy
Above the arch of the chancel is the 15th century rood canopy, a magnificent and rare example of a ceiling over the cross, preserved almost intact. The canopy is coved and comprises four by two panels with large square bosses. It may be contemporary with the roof and rests on a cambered beam which was once coloured.
The Canopy provided the background for figures of Christ on the cross with St. Mary and St. John the Evangelist. These figures were probably removed at the time of the Civil War - in the mid 1600s.
The Chancel
The chancel and chancel arch date from around 1200. On the south side of the arch there is a round- headed squint, re-opened in 2000 to mark the Millennium. Its purpose was to enable worshippers, who would otherwise have no view of the altar, to observe the elevation of the host during the Communion Service.
There is an unusual early 13th century Priest's door on the north side. It may have been convenient for the mediaeval Priest's house, whose site may now be occupied by the present Old Rectory across the road. This was built by W. J. Dunthorne (c. 1849/50) for the Terry family.
On the stonework of the north wall of the chancel there are traces of red and green paint with which the church was decorated in mediaeval times.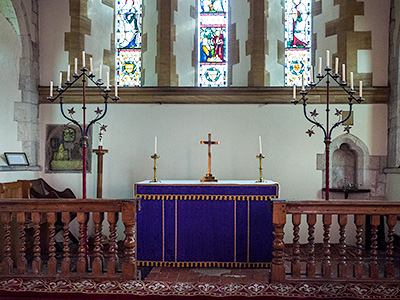 Gallery
The gallery dates from the time of Charles II. The oldest and thickest beam at the back of the gallery may have been salvaged from a ship. All the timbers of the belfry adjoining the gallery are of great size and strength and it is just possible that this is the Saxon wooden church.